RockPatch download mirror
Say No To NPatch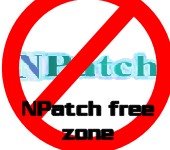 NPatch is not well liked by a fair portion of the community. Find out why.
License
pd's license allows everyone to redistribute the versions he created - 1.00 through 1.08.
VK's license appeared after he declared RockPatch dead, and cannot be applied retroactively to versions already released.
Downloads
Note: pd has repackaged the versions up to and including 1.07b to provide full TFD compatibility.
RockPatch

gamemd_HACKED (The patched gamemd.exe that started it all)

ETS
Other download locations
Nighthawk's original page
Thanks
Thanks a lot to:
Nighthawk

- for creating this project and collecting most of the versions

Gordon-creAtive

- for mirroring it

MadHQ

- for providing the CE74 versions

pd

- for repackaging the early versions with full TFD compatibility.
Miscellaneous

Last Update: 29th July 2007, 08:25 GMT.